Robinhood Review – Free Trades Anyone?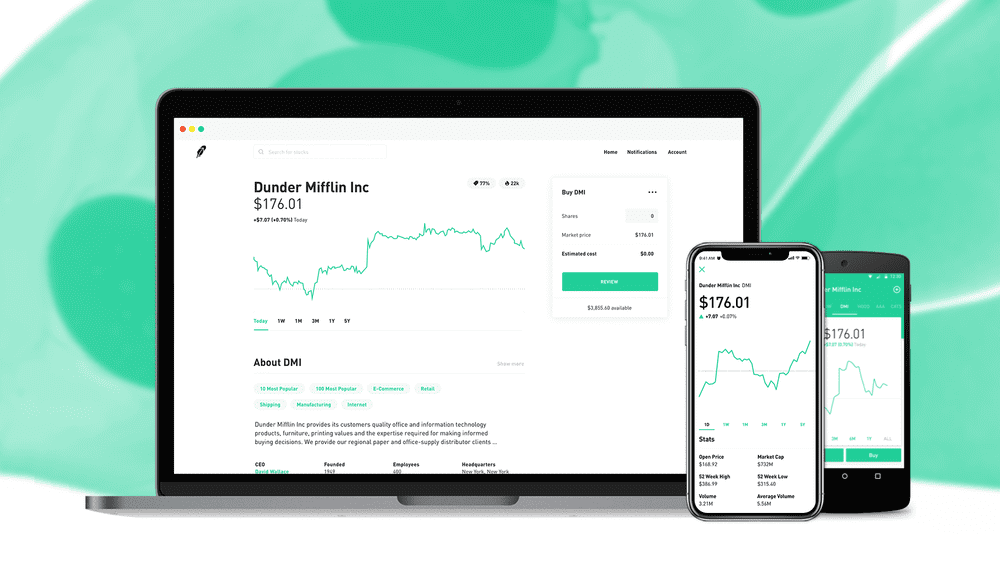 This post may contain affiliate links, which means I may receive commissions when you click these links, at no cost to you (sometimes you may also get something in return). Please understand that I have experience with all of these companies (as in I have invested my own money), and I recommend them because they are helpful and useful, not because of the small commissions I make if you sign up. Please read my disclaimer for more info.
Robinhood isn't quite stealing from the rich and giving to the poor, but, they are helping level the playing field for the poor (and mad) investor like you and me. Although things are starting to change, we do see the large traditional stock brokers (I won't mention any names such as E-Trade, TD Ameritrade, Merril Edge etc.) in 2019 still charge $5 to $10 a trade. While this doesn't seem like a lot, it does add up and eats into your returns if you are buying and selling stocks frequently. Even if you don't trade frequently, why pay for something if there are free options, especially for folks who are new to trading and/or trading in small amounts.
What's the Catch?
No real catch. Unlike the traditional brokers who were around when dinosaurs roamed the earth, companies such as Robinhood had the benefit of being born as a "FinTech" company with the advantage of being able to harness the power of the Internet, modern technology and a mobile first way of thinking (even if you are not a millennial).
I know what you are thinking. You must be mad to trust your money with these companies that were born yesterday. Well, yes, I am mad, but for other reasons. Your investments at Robinhood and any brokerage for that matter is covered under SIPC insurance up to $500k. In simple terms what this means is, if your broker goes belly up you are covered up to $500k per account just like FDIC insurance for savings accounts. Of course, do a FINRA broker check to be sure that the brokerage you are dealing with is licensed and regulated.
Getting Started with Robinhood
Fairly straightforward to get started, apply for an account. You'll need to meet the following requirements:
Be 18 years or older;
Have a valid Social Security Number (not a Taxpayer Identification Number);
Have a legal U.S. residential address within the 50 states or Puerto Rico; and
Be a U.S. citizen, U.S. permanent resident, or have a valid U.S. visa
Once your account is approved (usually very fast), link your bank account. There's no need to transfer funds right away if you don't want to. You can do that later.
How to Buy a Stock on Robinhood
This is how I usually go about it, which should work for most moderately sane investors.
First step (assuming your account is setup and bank linked) it to decide which stock or ETF you want to buy and how much you want to invest. Robinhood does a decent job of providing some basic stock research tools. For the purpose of this example, I am going to buy the most popular stock currently on Robinhood.
And it is…. Aurora Cannabis (ticker ACB). Surprise, surprise, everybody's a pothead. Of course, you don't just want to take the word of your stoner brother-in-law about investing in cannabis. As an intelligent and rational investor, you obviously would want to do your research. You can use Robinhood to do some basic research which I will go over now, but do keep in mind, if you want to invest a larger amount you may find the research tools in Robinhood a bit lacking. This isn't really a problem, since there are tons of free and paid options.
First step is to do a search and get to the stock page (ACB in this example). Here's what the Robinhood stock page tells you and based on this your observations are:
A lot of folks on Robinhood owns this stock – 367,147 and I am about to be 367,148.
Stock prices have increased 20% in the past year
Almost a 10 billion market cap
Pretty volatile 52 week range, which is to be expected in this type of stock
Links to news reports about this stock
No analyst recommendations – most established stocks will have analyst coverage, not many pot stocks do… so you won't have access to the opinion of "experts", which may or may not be a bad thing

I am not making any recommendation on whether or not you should invest in ACB. I am merely illustrating that Robinhood has some decent information to help you evaluate a stock as part of your decision making process.
If you need to do more research (do a Google search, as mentioned before, tons of sites that cover stock research in detail). Most of the fee based brokerages also have excellent research tools. Don't tell E-Trade, but what I've done a few times is do my research on E-Trade and then buy on Robinhood or my personal favorite M1 Finance (check my M1 Finance review too while you're here).
Step 1: Ok, so you've done your research and decide you want to get some ACB. Robinhood does not do fractional shares, so you have to decide how many shares you want. For the purpose of this example, I will get 1 share. So I enter the number of shares in the screen below. The three dots to the top right will allow you to change your order type (what are order types?).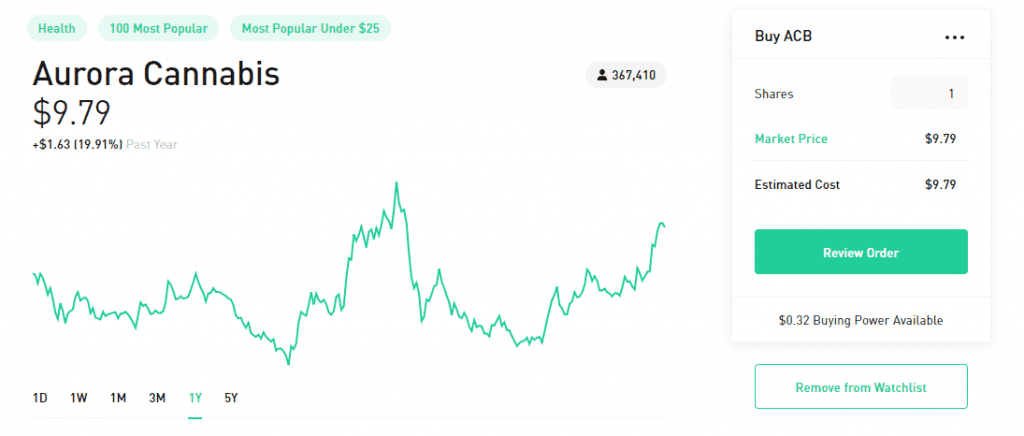 Step 2: As you can see, I only have $0.32 of buying power which is obviously not enough to place this order, so I will change my order type to "Limit Order" and transfer the funds I need as part of the transaction. If you have insufficient funds, since stock prices change by the second, Robinhood will not allow you to do a market price order (since the price can go up). I will change the price to $9.90 to give myself a bit of a buffer (With order type to "Limit Order", I am essentially telling Robinhood to not pay more than $9.90 for this stock).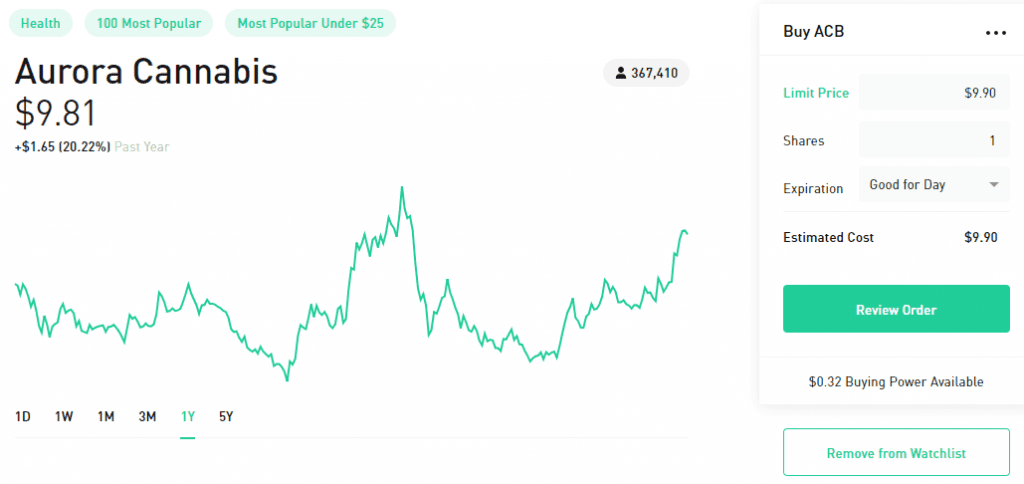 Step 3: Not enough money says Robinhood. So I will transfer funds from my checking account.


Step 4: Transfer done! I now have buying power!!! With most major banks (I use Capital One), the funds you transfer (upto $1,000) will be available immediately.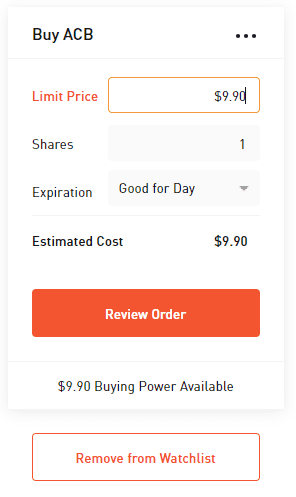 Step 5: Next, I click review order and Robinhood asks me if I am sure. Hell yeah I am. So I buy.
Step 6: I am now the proud owner of 1 share of Aurora Cannabis. Note that I placed a Limit Order of $9.90, but since the price at the split second the trade was executed was $9.78 that is what I paid.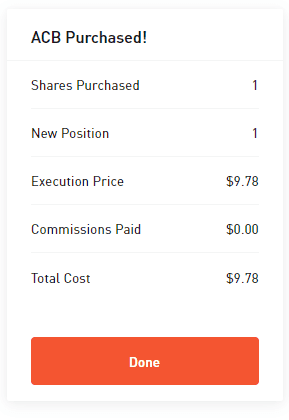 Just to be sure, I am checking my account and I do see a list of all the shares I own including ACB and look, the price has already gone up by $0.01. Excellent choice even if I say so myself.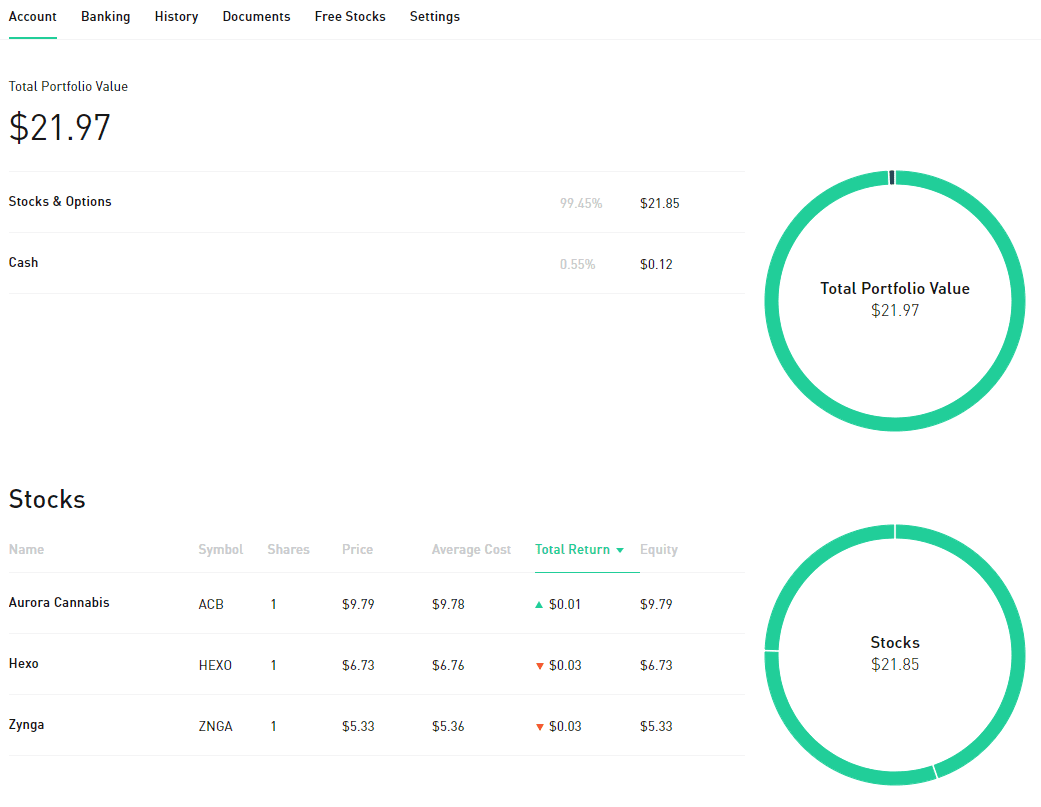 Free Stock
Robinhood will give you a free stock for signing up and for every friend you refer (upto a total value of $500). This alone is no reason to sign up since chances are you'll get a stock like Groupon (which I got) valued at under $10. However, there's a chance you'll get Apple or Microsoft, so it's better than nothing.
Is Robinhood Right for Me?
If you currently use a traditional stock broker such as TD Ameritrade, Merril Edge etc. and you are considered an average investor (i.e. not an accredited investor who has a portfolio of millions of dollars) I see no reason why you would not switch to Robinhood. If you really don't like saving $5 a trade, you could at least play the lottery with that.
Apart from the free aspect, Robinhood has a great mobile app (UI) as well as Web app (UI) where you can place trades, research stocks, and check on your account very easily and quickly with minimum effort.
If you are looking to be more of an off hands investor or somebody who wants to contribute a set amount periodically, I would suggest using a robo advisor. My recommendation is M1 Finance due to the flexibility it offers, including the ability to buy fractional shares. With Robinhood you have to buy whole shares. So for example, if you want to buy $500 in GOOGL (currently around $1,300 a share) you can with M1 but can't with Robinhood.
Overall, I've been very impressed with Robinhood. It has all the features you want of a traditional broker, without the fees and with a great mobile app.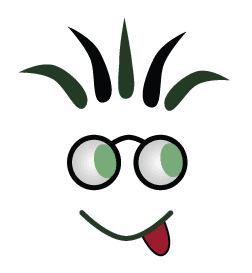 QUESTIONS, COMMENTS, THOUGHTS, IDEAS?
I hope this Robinhood review was helpful. I would love to hear any feedback or questions you have.